Certified confidence with code training
CODE has the last-mile delivery market covered with our variety of trainings that are setting the industry standards.

Specialized techniques, common trouble-shooting, and vital customer service skills are covered in this 9-point training.
Customer service

Washing machine

Clothes dryer

OTR microwave

Clothes dryer door swap

Range

Refrigerator

Dishwasher

Refrigerator door swap

Moffett Truck-Mounted Forklift
The only Moffett forklift certification offered online. Keep your crew compliant with this 13-point training.
Introduction to Moffett forklifts

Dismounting Moffett off truck

Daily maintenance

Operator operational checks

Moffett drive controls

Onsite operation

Understanding stability

Loading or lifting above ground level

Lifting wide loads

Lifting palletized loads

Stacking loads

Mounting on to the truck

Covering the intricacies of a more complex appliance installation, this 7-point training prepares your last-mile delivery professional for whatever comes their way.
Customer service

Facility arrival-load out

Double oven removal

Double oven install

Stove top removal

Stove top install-Part 1

Stove top install-Part 2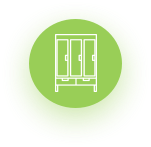 Secure yourself against unnecessary damage to your customer's new furniture or to their home with this 2-point training on quality, white-glove furniture delivery.
Retrieving furniture from facility

Delivering furniture to customer
What if you only hired CODE trained Contractors?